This is a flash hands on review to give you the chance to see what the phone is all about as soon as possible. Stay tuned as we'll be expanding and upgrading this hands on review very shortly with more info. 
The Samsung Galaxy Fold is one of the most exciting smartphones of 2019 and we've finally been able to get our hands on the first modern foldable phone. Before today, we've only been able to see it on stage at a distance and behind thick glass.
Our first, very quick impressions of the Samsung Galaxy Fold are positive. The folding mechanism feels secure, the large 7.3-inch display looks great and the fact you can fold it in half and stick it in your pocket is certainly cool.
We're spending more time with the Galaxy Fold, and we'll be updating this hands on look with more findings very soon.
Samsung Galaxy Fold release date and price
The official Samsung Galaxy Fold release date is April 26 in the US, while in the UK and Europe pre-orders open on April 26 and the Galaxy Fold will be available from May 3.
The Samsung Galaxy Fold price is $1,980, £1,800 (€2,000), making it one of the most expensive smartphones on the market, pretty much matching the cost of the forthcoming foldable Huawei Mate X.
Design
Samsung believes the Galaxy Fold has the most natural form factor for a foldable phone, with the screen folding in on itself to provide protection – much like laptop.
It does feel like a natural way to open it – with many years of book opening behind us we've become pretty adept at the action – and it's certainly easier to get to grips with than the opposite fold of the Huawei Mate X.
Open up the Galaxy Fold fully to reveal the 7.3-inch display and the 20-part, dual axis hinge locks into place, preventing you from over-extending the display past 180 degrees.
Fold it back up and the Samsung Galaxy Fold snaps shut with a satisfying sound, giving you confidence that it won't accidentally unfurl itself in your bag.
Samsung spent a lot of time working on the dual-axis hinge, with it clicking open and shut for a tactical feel during use, with a smooth movement between its two states. It's been designed to withstand over 200,000 folds and unfolds, which works out at 100 times opens and shuts a day for five years – so it should last.
It certainly feels strong and stable, capable of taking repeated action without issue, and a nice touch is the way the hinge disappears into the body of each half of the phone when fully opened. 
The fingerprint sensor is located on the right side of the device, falling nicely under thumb or finger, and it also acts as a Bixby launch button when pressed, jumping you straight into Samsung's smart assistant.
Above the digit reader there are power/lock and volume keys, also in easy-to-reach positions, while on the base of the Galaxy Fold you'll find a USB-C port on one half and a speaker on the other half.
There are two speakers in total – the other is on the top edge of the phone – providing stereo sound tuned by AKG and boasting Dolby Atmos support.
As fun and futuristic as the Galaxy Fold design is, it is also big, bulky and heavy. The Fold measures 62.9 x 160.9 x 17mm, making it double the thickness of most smartphones. That means it's not so easy to slide into pockets, especially if you're a fan of skinny jeans.
It tips the scales at 269g, making it one of the heaviest devices on the market. The Galaxy S10 Plus is 175g, the iPhone XS Max is 208g and the Huawei Mate 20 Pro comes in at 189g.
The Galaxy Fold will be available in Space Silver Comos Black, Martian Green and Astro Blue, with the green and blue variants exclusive to Samsung's website.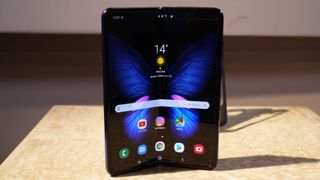 Display
The Samsung Galaxy Fold comes with two screens, with a 4.6-inch display on the front (when in 'phone mode') feeling a little small by today's standards where most phones have screens which are at least 5 inches in size.
It made to feel smaller thanks to the sizable bezels above and below, reminiscent of phones from around 10 years ago. It's a trade-off that has to be made, as the tech has to fit somewhere, and the benefit of its diminutive size is the fact it can be easily used one-handed.
The larger, tablet display features an advanced composite polymer layer, which is stuck to the body with a foldable adhesive, allowing the display to bend, flex and stay on the device. It's also the thinnest display Samsung has ever made.
When folded out, you're greeted by a 7.3-inch, QHD+ Super AMOLED display with is bright, clear and crisp with plenty of color fired directly into your eyes. It also supports HDR10+, providing an enhanced viewing experience with supported video.
However, there is one fairly major point to note about this display. The crease.
Looking at the display at an angle, and there's a noticeable crease running down the entire length of the screen in the middle, where it folds. It's not something that came be remedied, and you'll have to accept the fact it's there if you do opt to splash the cash on the Galaxy Fold.
That said, viewing the screen head-on and the crease is much less noticeable (it's still there) and when we fired up Asphalt 8 for a quick race (we came first, naturally) it disappeared from view as we focused in on the game.
Samsung says the crease won't get more defined over the time, so those fearing that it'll become more pronounced with usage should be able to rest easy, although we'll only really know a year or two down the line.
Interface and performance
There are various ways you can use the Samsung Galaxy Fold. When closed, the 'phone mode' provides one-handed operation for tasks such as calls and music playblack.
Open up into 'tablet mode' though, and the larger screen makes social media, messaging, web browsing and photo/video editing much easier.
Every time you transition from one screen to the next, apps will follow your usage patterns for a seamless experience. For example, if you open Maps when in 'phone mode', opening the Galaxy Fold up Google Maps will also be displayed on the big screen.
Every app that comes pre-installed on the Galaxy Fold will support this continuity between displays, but it will be up to app developers to make their applications compatible. 
Samsung says it's easy to add the functionality, as it doesn't require re-writing existing apps, simply just adding extra features to them – but we'll have to wait and see how widely it's adopted.
You can also use up to three different apps side-by-side on the large display with multi-active window mode on the Galaxy Fold.
This is a flash hands on review to give you the chance to see what the phone is all about as soon as possible. Stay tuned as we'll be expanding and upgrading this review very shortly with more info.